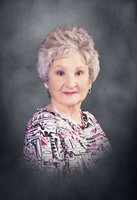 Audrey Jean McCall
Mrs. Audrey Jean Salter McCall, age 86, of Barnesville, GA passed away on Friday, June 7, 2019 at the Sunny Grove Assisted Living.
Jean was born on Friday, June 17, 1932 in Barnesville to the late Ben Salter and the late Ida Mae Andrews Salter Bishop. She was also preceded in death by her husband, Tolvin Frederick "Turk" McCall; brother, Richard "Jack" Salter; and step-father, Dick Bishop. Jean worked at the William Carter Company as an inspector and was a member of the First Baptist Church of Barnesville. She loved being around animals and people. Jean loved to be out and about.
She is survived by her daughter, Debbie, and her husband, Donnie Keadle; son, Gary McCall, and his wife, Ruthie; grandchildren, Chad Keadle, Brandy Hathcox, Monica Freeman, and Trent McCall; great- granchildren, Chloe, Noah, Sophie, Lucy, Joe, Kyle, Ethan, Lucas, and Jacob; great- nephew, Christopher Salter.
The funeral service for Mrs. Jean McCall will be held at 11:00 A.M. on Monday, June 10, 2019 at the First Baptist Church of Barnesville with Reverend Garth Forster officiating. Interment will follow in Lamar Memory Gardens. The family will receive friends at Williams- Westbury Funeral Home on Sunday, June 9, 2019 from 4:00 P.M. until 6:00 P.M.
To sign the online registry or to send a condolence online, please do so at www.williams-westburyfuneralhome.com.
Williams-Westbury Funeral Home, 526 College Drive, Barnesville, is serving the McCall family.