526 College Dr | Barnesville, GA | 30204
Where to Begin When Planning a Funeral and Cremation in Macon, GA
Established in 1952, the Williams-Westbury Funeral Home has been part of Macon, GA, for nearly seventy years. Wishing to ensure that the families receive a respectful and gracious service, we at Williams-Westbury dedicate ourselves to making a sad time better in any way possible. All of our services are done with compassion and utmost care to give loved ones the respect they deserve. Our standing memberships in NFDA, GFDA, CANA, AGEG, and ICCFA allow us to stay abreast of the latest funeral service trends and provide our clients with the most modern end-of-life care. We specialize in facilitating traditional funerals, pre-planned funerals, cremations, and burials. Our knowledgeable and friendly staff is here to help you make all the necessary arrangements. Your family's comfort is of the utmost priority to us -- let us help you through this difficult time by calling us at (770) 358-1678!

Losing a loved one to death can feel overwhelming, no matter the situation. Even if you knew this time was approaching, making plans for final arrangements, like a funeral and cremation in Macon, GA, typically brings a variety of emotional reactions. There may be a sense of going through the motions as you try to make sense of this new reality and change in circumstance. This is one reason it can be helpful to work with an experienced team of professional funeral and cremation experts for death care needs.


Specifics may vary, but, if the death occurs at home or a business, your immediate first call should be to the local emergency authorities. These first responders will assess the case thoroughly, and the coroner will clear the body to be retrieved by your chosen funeral home. If the death is declared at a hospital or under the care of a hospice/doctor, the medical professionals will help notify the appropriate authorities for this clearance. The funeral director cannot bring the deceased into their care without this first step.


Once you initiate the funerary team to transfer the remains into their care, they will come as soon as you are ready. Most plans can wait until an arrangement conference can be scheduled as quickly as possible, but you may be asked if you want to have the remains embalmed. Feel no pressure to make immediate decisions. Everything can wait a few hours a least. The body will be respectfully kept in a secure location, usually in cold storage, while preparation decisions are finalized.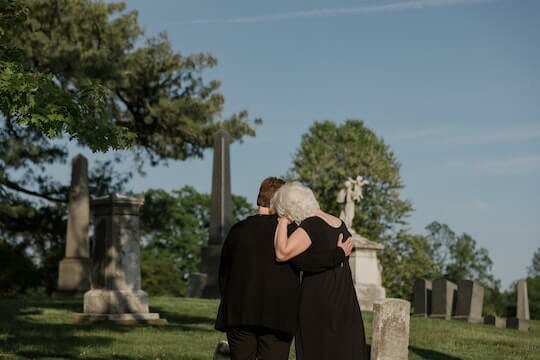 Ways a Funeral and Cremation in Macon, GA, can Help Those Mourning
There is definitely no best or right way to arrange the services for a funeral and cremation in Macon, GA. Finding ways to honor your deceased and meet the needs of the bereft family and friends can bring forward a healing experience. You and other close relations will work together with the funeral director while considering any known prearrangement plans or wishes of the decedent.
Invite a Sense of Closure with Funeral Services: Physically gathering to pay final respects to someone who has passed is often a meaningful and supportive way to start a healthy grieving path. However, there is room for a great deal of differentiation and variety within the scope of a funeral service. The number one distinction that sets a funeral apart from other solutions is the corpse's presence for the services. You can have the body embalmed and prepared for public presentation or keep the body out of view and display a closed casket.
Funeral services are often held at the funeral home, a church, an event center, a private residence, a cemetery, or another appropriate location your family selects. They can be a single event or a series of meetings that work together to lay the deceased to rest. Multi-tiered full funerals often include a viewing, funeral service, committal service, and a post-service reception.
Keep Costs Down with Flexible Options Provided by Cremation Services: If you are looking for more cost-effective solutions, consider a cremation procedure to prepare the remains for final disposition. The process tends to lighten the final environmental footprint without the need for synthetic casketing materials and toxic embalming chemicals being interred. There are many attractive reasons to choose cremation services.
Invite flexibility into the timing of honoring ceremonies like memorial services when the body has already been cared for via cremation. There are various placement solutions for the remains, including keeping the cremated body at home in a displayable urn or burial in a cemetery or memorial park. Ashen remains might be scattered in a meaningful location with appropriate permissions.
Additional Arrangement Solutions: The body could be cared for with an immediate burial or simple cremation process without making plans for a public commemorative service now or later. Graveside burial services, ash scattering services, or celebrations of life could all offer other avenues to honor the memory of your loved one and support those mourning the loss.
Keeping the Memory of Your Loved One Alive
Some simple tokens and memorabilia can be ordered to help you feel close to your deceased loved one. These can be collections of photos in digital or printed formats, statues, memorial markers, figurines, ornaments, commemorative jewelry, or any other physical reminders of the person who has passed. Though these are not necessary, the memories attached to thoughtful physical reminders can comfort the bereaved in the coming weeks, months, and years.
Obtain Quality Funerary and Cremation Services with a Trusted Brand
Find solutions that work best for your needs with the competent experience at Williams-Westbury Funeral Home. Our directors and staff have everything you need for a meaningful and respectful funeral and cremation in Macon, GA. See what is possible by calling (770) 358-1678. Schedule a no-obligation consultation or tour of our facility at 526 College Dr, Barnesville, GA 30204, to learn more.
Funeral & Cremation Services FAQ
How do I make funeral arrangements?


There are a few key components that need to be considered when

putting together a funeral service

. Firstly, it is important to decide where the service will be held, whether that is at home or at a funeral facility. Secondly, you must think about which services you would like in place for the ceremony, such as an obituary and/or minister. Finally, decisions around music and other readings must be made if desired. It can also be useful to keep family members involved throughout the process to bring everyone closer together during this time of grief.




What are the etiquette rules for funerals?


Funerals are somber occasions deserving respect and consideration. It is important to recognize the cultural and religious difference in

funeral etiquette

that exists around the world; it is always important to understand the unique practices of the funeral. Generally, the key etiquettes for attending funerals include dressing appropriately and acting respectfully; one should avoid wearing flashy or disruptive clothing, as well as refrain from speaking loudly or causing any disruption during the service. Moreover, it is respectful to help those in mourning by expressing your condolences, helping where appropriate, and listening with empathy.




What are the benefits of pre-planning my funeral?


Pre-planning a funeral has numerous benefits that should not be overlooked. By taking the time to structure the ceremony of your passing beforehand, you can eliminate much of the stress for you and your family at the time of the services. This will free up everyone involved to focus on celebrating your life in a fitting manner instead of scrambling to make difficult decisions at what is already an emotionally trying time. Pre-planning also allows you to make sure that your final wishes are followed precisely, as well as providing peace of mind knowing that everything is taken care of and alleviating financial burdens after death. For those considering

pre-planning a funeral

, it's important to remember that these benefits make all the difference in grieving with grace in one's last moments.