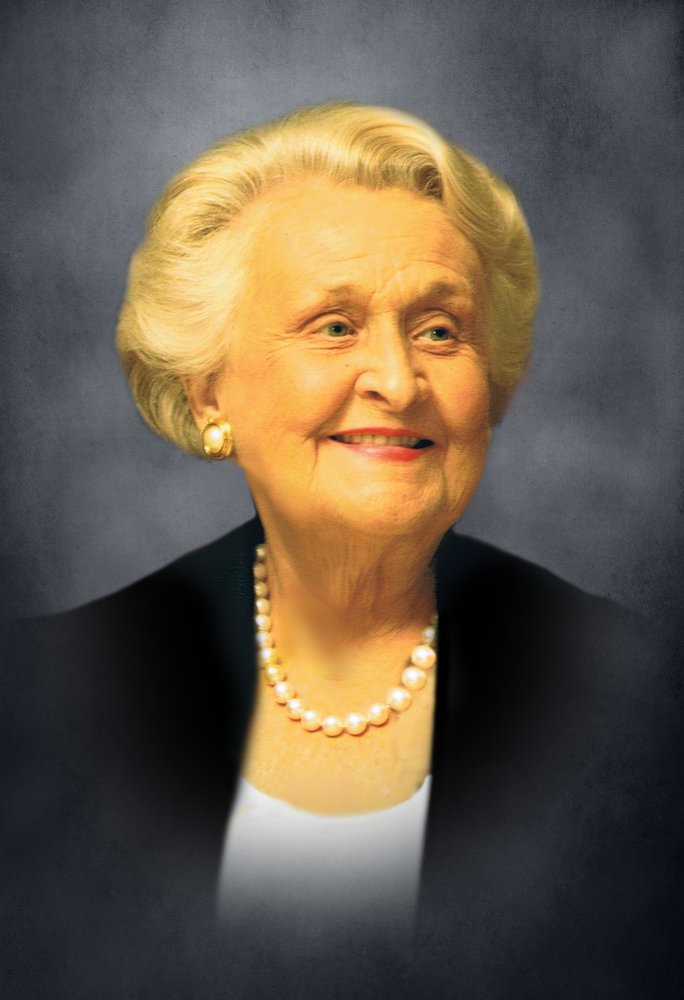 Obituary of Jacqueline Carter
Jacqueline Bowman Carter, (94), entered the gates of Heaven on Tuesday, February 20, 2018 at the Spalding County Hospital. She was born in Yatesville, GA to Kelly Douglas and Elizabeth Odile Rumph Bowman on August 7, 1923. The family will receive friends at Williams-Westbury Funeral Home on Friday, February 23, 2018 from 5:00 P.M. until 7:00 P.M. A Memorial Service will be held at Barnesville First United Methodist Church on Saturday, March 3, 2018 at 3:00 P.M. with Pastor Cyndi McDonald and Pastor Dana Overton-Garrett officiating. Burial will be private in Greenwood Cemetery.
Jackie was a beautiful southern lady and a true steel magnolia with a sparkling personality that brought life and laughter to all who knew her. She loved her family and life itself. She was the last of the founding members of the Azalea Garden Club where she served as president during the club's fiftieth anniversary. Jackie was honored by receiving a Life Membership in 2012 after 63 years of service. Mayor Peter Banks declared May 17, 2012, as Jackie Carter Day in Barnesville. Jackie was a member of Barnesville First United Methodist Church where she served on the Altar Guild for many years with Betty Ann Tuttle and Louise Jackson. Many times, these ladies cut flowers from their own yards, often Jackie's beautiful roses. At the age of 91, she added 36 new rose bushes to her garden, making 93 in all! Having three sons, she did her part in the Boy Scouts of America serving as a den mother. Jackie was a wonderful cook and was known for her delicious cream cheese pound cakes and lemon meringue pies, which she shared with many people in town.
Preceding Jackie in death were her parents and the children's father, Robert Winston Carter, Sr. in 1958. Before dying, he told her "he was not worried about the children because he knew she would take care of them, but he worried about who would take care of her." Harold "Grady" Carter, who died in 2013, did just that. They were married in 1968 and Grady became the children's second father. She was also preceded in death by her sister Betty Bowman Childs, brother-in-law, Wyatt Childs, daughters-in- law Myra Arnall Carter and Pamela Fowler Carter, and two grandchildren, Julie Elizabeth Carter and Carter Carlton Smith.
Surviving her are her sons and daughter: Robert Winston Carter, Jr. (Diane) of Charlotte, NC; Patricia Ann (Patsy) Carter Fountain (Bob) of Macon GA, Kelly Douglas Carter of Barnesville and Donald Bowman Carter (Gretchen) of Washington, D.C.; seven grandchildren: Trey Carter (Raeshell), Laura Carter, Robert Smith (Kelly), Tyler Smith, Grace Kelly Carter (Vincent), and Drake Carter; step-grandchildren: Meredith Carter, Jonathan Carter, Heather LaClair (David ) and Justin Fowler (Kristen); four great-grandchildren: Emsley and Elizabeth Smith, Bryce Carter Mossow and Bowman Smith Downey; five step-great-grandchildren: Braelin Dion, Noah, Ethan, Johanna and Katherine Fowler and Natalie Grace LaClair; nieces Ann Carter Blackwell, Mary Childs Harden and Anne Childs Brock and nephew Wyatt Bowman Childs (Sherry).
Flowers are accepted or memorial contributions may be made to Barnesville First United Methodist Church, 375 Thomaston Street, Barnesville, GA 30204 or to the Barnesville-Lamar Community Foundation, 577 Mulberry Street, Suite 1600, Macon, GA 31201.
To sign the online registry or to send a condolence online, please do so at www.williams-westburyfuneralhome.com.
Williams-Westbury Funeral Home, 526 College Drive, Barnesville, is serving the Carter family.